Commercial PC revenues up in Q4 2017
1st February 2018 – Revenues from sales of business-targeted PCs through Western Europe's largest distributors were up in Q4 2017 despite a drop in volume, according to data published by CONTEXT, the European IT market research company.
Commercial-PC revenues increased by +6% year-on-year in the final quarter of 2017 while unit sales declined by -6%. Revenue growth was driven by a continuous year-on-year rise in distributors' average sell prices (ASPs), which was able to offset the effects of lower volume. The ASP of commercial PCs in the quarter was €646, +12% higher than in the previous year.
PC ASPs have been on the rise since the end of 2016 as a result of exchange-rate fluctuations, changes in component costs and a beneficial increase in demand for higher-priced products. In Q4 2017, as in earlier quarters of the year, there was a significant contribution from the demand for higher-priced products as commercial customers continued to focus on improved quality, performance and mobility. This was also noticeable in the breakdown of unit sales: most volume growth in the segment came from the high end of the market with, for example, a +10% increase in sales of ultra-slim portables and a +9% rise in those of notebook workstations. "Looking forward, PC pricing and revenues in the commercial segment are expected to continue to benefit from the shift in demand to higher-end products as users maintain their focus on high quality, high performance and, often, high portability", said Marie-Christine Pygott, senior analyst at CONTEXT.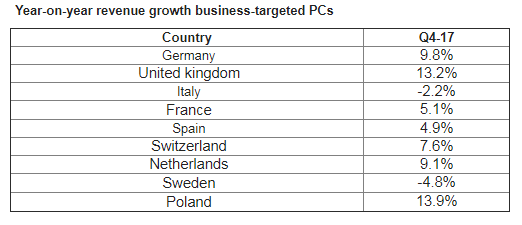 About CONTEXT
CONTEXT's market intelligence, performance benchmarks and opportunity analysis empower clients to optimise operations and accelerate tomorrow's revenues. With over 30 years of industry partnership and of experience reporting on large datasets, CONTEXT delivers analytics at all points in the value chain, providing clients with actionable insights rooted in concrete data and a profound understanding of customer needs. CONTEXT is headquartered in London, with over 250 staff across the world and in 2017 was 2017 recognised as one of the UK's Best Workplaces™ by Great Place to Work®.

Press Contact
Funda Cizgenakad
T: +44 7876 616 246
E: pr@contextworld.com
Sign up

Register to receive the latest press releases