Fast adoption of monitors with DisplayPort accelerates sales in business space in early Q1 2018
London, 26th March 2018 - Unit sales of business-targeted monitors in Western Europe (WE) were already strong in early Q1 2017 but have picked up even further in the same period this year to grow by +6%, according to the latest distribution data published by CONTEXT, the IT market intelligence company.
Overall sales of monitors have continued to increase during the first two months of the year in both the consumer and business segments. With 8% revenue growth year-on-year, business monitors still represent over 50% of distributors' cash flow. Consumer monitors, however, experienced the greater revenue growth, with a 12% year-on-year increase in early Q1.
Sales of business-targeted monitors have improved in early Q1 before but, this year, one of the drivers has been an increased demand for monitors with USB type C ports: sales of these grew by over +19% year-on-year in the first two months of 2018, although volumes are still very low, accounting for only 2% of unit sales and 5% of revenues. Even though HDMI was designed for consumer-electronics applications, sales of business-oriented monitors with this input have also grown by +19% compared to the same period last year.
However, the biggest increase has been in sales of business monitors with DisplayPort inputs, which have grown by over +27% year-on-year. Although HP has maintained its lead in the business sector of the market, its sales of models with DisplayPort inputs actually declined. In this niche, Dell, Lenovo and Philips had much higher sales increase in early Q1 2018, growing collectively over +38% year-on-year.
"As the first quarter of this year progresses, it is expected that the performance of business monitors will remain relatively strong", said Dominika Koncewicz, Senior Analyst at CONTEXT. "In addition, there will be even more sales of DisplayPort models thanks to their ability to connect almost any other type of monitor and support the multiple displays that are becoming increasingly popular in the corporate space. Moreover, as more devices of all kinds adopt the USB type C, growth in sales of monitors with this input is likely to accelerate in both the business and consumer markets."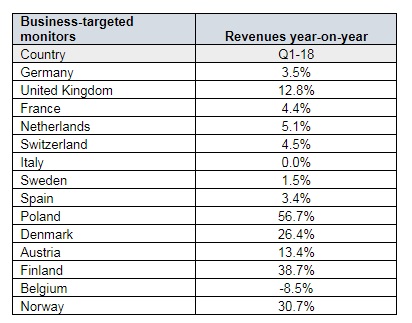 About CONTEXT
CONTEXT's market intelligence, performance benchmarks and opportunity analysis empower clients to optimise operations and accelerate tomorrow's revenues. With over 30 years of industry partnership and of experience reporting on large datasets, CONTEXT delivers analytics at all points in the value chain, providing clients with actionable insights rooted in concrete data and a profound understanding of customer needs. CONTEXT is headquartered in London, with over 250 staff across the world and in 2017 was 2017 recognised as one of the UK's Best Workplaces™ by Great Place to Work®.

Press Contact
Funda Cizgenakad
T: +44 7876 616 246
E: pr@contextworld.com
Sign up

Register to receive the latest press releases