AM_PR_12_02_Press_Release_content
INDUSTRIAL 3D Printer market shines again in 2018
PROFESSIONAL and DESIGN markets hold firm while PERSONAL market struggles for growth
London, 15th January 2019 - Of the four main groups of 3D printers*, it appears that the INDUSTRIAL class will have had the strongest growth in machine shipments in 2018. INDUSTRIAL class 3D printer shipments are projected to show a +27% year-on-year (Y/Y) shipment increase, having already seen strong +19% growth through the first three quarters. In spite of single-digit declines in shipments year-to-date Q1-Q3, the PROFESSIONAL and DESIGN segments are expected to reach single-digit positive growth for the year overall. The falls in the DESKTOP segment, in which -13% fewer printers were shipped globally Q1-Q3 2018, are projected to have continued in the 4th quarter, leading to an overall decline in global shipments in this class for 2018 compared to 2017.
INDUSTRIAL 3D printers – a class which now includes recognisable company names including HP and GE – saw solid growth in both the polymer (plastic) and metal printer shipments through the first three quarters. INDUSTRIAL 3D polymer printer shipments were up +12% YTD Q1–Q3 2018 thanks mostly to strong increases in the US and Europe and thanks to growth from Carbon (+65%) and HP (+31%), but strong domestic sales from China's Union Tech also made a significant contribution
"While the likes of GE Additive, 3D Systems, EOS and others saw nice shipment growth in INDUSTRIAL 3D metal printers," notes Chris Connery, VP for Global Analysis at CONTEXT, "the real story in this class is about new, lower-priced metal printers from brands such as Markforged which saw shipments soar in 2018." In the final assessment of 2018, low-priced metal competitor Desktop Metal will join Markforged to collectively lead the segment in terms of unit volumes. These lower-priced metal 3D Printers typically sell for $100K-$125K – which stands out starkly in a category where the weighted average price in 2017 was $479K and some metal 3D printers (albeit with vastly different features and throughput) sell for more than $2M.
It is likely the DESIGN class of 3D printers will end 2018 with single-digit growth in unit shipments. Industry veteran 3D Systems was the success story of the first three quarters in this class seeing shipments increase +13%. It saw strong growth in sales of its Material Jetting products and in Q3 saw theroll-out of its long-anticipated Figure-4 stereolithography series, which is expected to help drive the category for the full year.
While unit volumes are dominated by sub-$2,500 PERSONAL printers, 70%+ of global printer revenues come by way of the INDUSTRIAL printer segment so, in assessing the overall health of the industry, this is the segment most closely watched. It is also the one leading the push of additive manufacturing into the $12T mainstream manufacturing market. "Printer revenues in this important INDUSTRIAL segment were up +44% on a year ago," notes Chris Connery, VP Global Analysis CONTEXT. "The INDUSTRIAL segment saw good growth both in polymer 3D-printer shipments – up +31% year-on-year – and metals 3D-printer shipments which were up a phenomenal +62% for the quarter."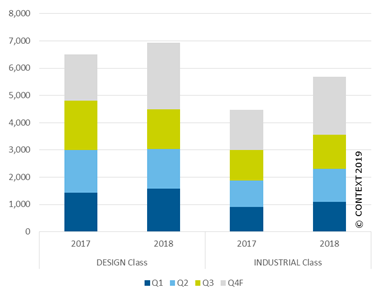 3D Systems was also one of the main players in the PROFESSIONAL class, another grouping which is on track to see single-digit Y/Y unit-shipment increases. The company had previously abandoned this space a few years ago – which has been defined in recent years by the likes of Ultimaker and Formlabs – but saw strong initial shipments of its new professional DLP stereolithography printer in Q3, a trend expected to continue into 2019.
Although the final global shipping figure for PERSONAL 3D printers in 2018 is forecast to be a whopping 370K+ – a figure many never expected sub-$2,500 category to reach – this could represent a single- to double-digit drop on the ~400K total of 2017. The year has been marked by (1) limited crowd source project wins, (2) the negative impact of tariffs on Chinese goods shipping into the US, the world's largest market for PERSONAL 3D Printers, (3) shipment declines from market leaders such as XYZprinting, Monoprice andWanhao(4) and a shift back to DIY/kit solutions which only hobbyists find attractive. While therewere many Y/Y successes from lower-volume kit vendors in the segment for the year, high-volume Prusa Research, which saw large increases in unit volumes shipped, was the lone star of the category. In 2018, to counter what is, hopefully, just a short-term downturn in PERSONAL 3D printer shipment growth, vendors began introducing products in higher price classes. This trend is maybe best exemplified by XYZprinting roundingout their portfolio by introducing new PROFESSIONAL and DESIGN printers, and Stratasys' MakerBot recently announcing its PROFESSIONAL Method 3D Printer – the first new product it has introduced in two years.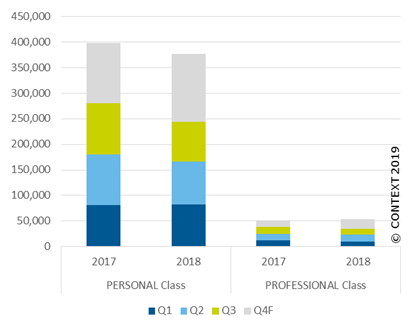 * 3D-printer segment by ASP: INDUSTRIAL ≥ $100K, DESIGN = $20K–$100K, PROFESSIONAL = $2.5K–$20K, PERSONAL ≤ $2.5K
About CONTEXT
CONTEXT's market intelligence, performance benchmarks and opportunity analysis empower clients to optimise operations and accelerate tomorrow's revenues. With over 35 years of industry partnership and of experience reporting on large datasets, CONTEXT delivers analytics at all points in the value chain, providing clients with actionable insights rooted in concrete data and a profound understanding of customer needs. CONTEXT is headquartered in London, with over 250 staff across the world and in 2017 was recognised as one of the UK's Best Workplaces™ by Great Place to Work®.

Press Contact
Funda Cizgenakad
T: +44 7876 616 246
E: pr@contextworld.com
Sign up

Register to receive the latest press releases