Industrial 3D-printer market surges again while personal market shows signs of weakness
Total 3D-printer market up +14% year-on-year with INDUSTRIAL printer shipments up +39% thanks to increased shipments of metals machines and new polymer machines
London, 24 April 2018 – The global 3D-printer market continued its upward trajectory in Q4 2017 with more than 132K units shipped over the quarter, 14% more than in the same period a year ago. Shipments of INDUSTRIAL* 3D printers were up by 39% mostly thanks to newcomers in the polymer segment, including HP and Carbon. However, the continued strength of shipments of metals 3D printers, from new players and industry heavyweights such as GE Additive, EOS and SLM Solutions alike, also contributed.
While the redefined PERSONAL* segment began to show some signs of weakness, with only 10% more printers shipped than a year ago, the newly segmented PROFESSIONAL* class made great gains and shipments were up +97% on 2016. Even the struggling DESIGN* segment – the one most associated with prototyping and dominated by industry stalwarts Stratasys, 3D Systems and EnvisionTEC – saw year-on-year gains of +13%, demonstrating the upward momentum of the entire industry.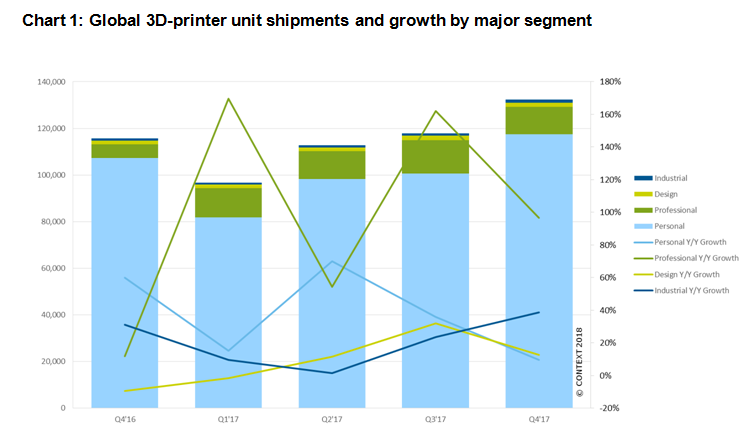 While unit volumes are dominated by sub-$2,500 PERSONAL printers, 70%+ of global printer revenues come by way of the INDUSTRIAL printer segment so, in assessing the overall health of the industry, this is the segment most closely watched. It is also the one leading the push of additive manufacturing into the $12T mainstream manufacturing market. "Printer revenues in this important INDUSTRIAL segment were up +44% on a year ago," notes Chris Connery, VP Global Analysis CONTEXT. "The INDUSTRIAL segment saw good growth both in polymer 3D-printer shipments – up +31% year-on-year – and metals 3D-printer shipments which were up a phenomenal +62% for the quarter."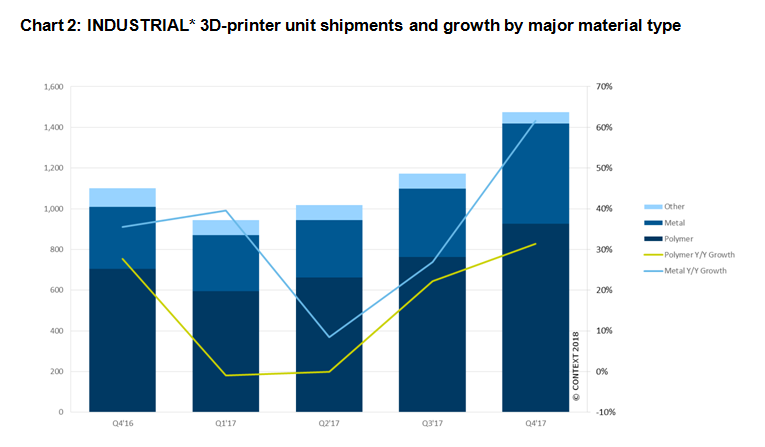 About CONTEXT
CONTEXT's market intelligence, performance benchmarks and opportunity analysis empower clients to optimise operations and accelerate tomorrow's revenues. With over 30 years of industry partnership and of experience reporting on large datasets, CONTEXT delivers analytics at all points in the value chain, providing clients with actionable insights rooted in concrete data and a profound understanding of customer needs. CONTEXT is headquartered in London, with over 250 staff across the world and in 2017 was 2017 recognised as one of the UK's Best Workplaces™ by Great Place to Work®.

Press Contact
Funda Cizgenakad
T: +44 7876 616 246
E: pr@contextworld.com
Sign up

Register to receive the latest press releases