EMEA Printer Hardware Shipments up 3% in Q1 2018
London, 11th June 2018 - Unit shipments of printer hardware to Europe, the Middle East and Africa (EMEA) grew by +3% year-on-year in Q1 2018 for only the third time in the last two years. The positive performance was largely due to increased sell-in in the Middle East and Africa (MEA) and Central and Eastern European (CEE) regions, which was sufficient to offset declines across Western Europe (WE), according to data published by CONTEXT, the IT market intelligence company.
Sell-in of printers to Central and Eastern Europe (CEE) for the quarter were up sharply with the region registering a +10% year-on-year growth – the first increase in sell-in in the past year. There were more unit shipments in all categories, but the overall positive performance was largely driven by a +8% year-on-year increase in laser hardware. Sell-in to Russia makes up almost half of all the sales to CEE so a +10% increase there was another major driver. There was significant growth in sell-in of inkjet multifunction printers (MFPs) to the Czech Republic, Romania and Russia.
The Middle East and African (MEA) region continued to outperform other regions but the +17% year-on-year increase in unit shipments was similar to that seen in the previous quarter and is on the back of a drop last year. The overall increase was largely driven by inkjet MFPs, although there was rising growth in all other categories too. Sell-in levels of printer hardware continued to increase in UAE, where the growth of +13% year-on-year was driven mainly by inkjet MFPs; double-digit growth in Turkey, Saudi Arabia and South Africa followed particularly weak performances in Q1 2017. Although unit shipments of inkjet MFPs continued to grow, declines in other categories led to an overall decrease in Israel and Egypt.
"Sell-in to Western Europe accounts for about 65% of all printer hardware shipments to EMEA and declined by −3% year-on-year in Q1 2018 – although this was an improvement on the previous two quarters", said Ralph Mascarenhas, Imaging Analyst at CONTEXT. "Sell-in levels of single-function devices continued to fall, making a significant contribution to the overall decrease, while those of MFPs were up on Q1 2017."
While most Western European countries saw printer sell-in fall, there was positive performance in France and Italy where shipments grew by +1% and +2% respectively, largely due to strong sell-in of inkjet MFPs.
Country Split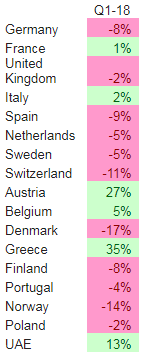 About CONTEXT
CONTEXT's market intelligence, performance benchmarks and opportunity analysis empower clients to optimise operations and accelerate tomorrow's revenues. With over 30 years of industry partnership and of experience reporting on large datasets, CONTEXT delivers analytics at all points in the value chain, providing clients with actionable insights rooted in concrete data and a profound understanding of customer needs. CONTEXT is headquartered in London, with over 250 staff across the world and in 2017 was 2017 recognised as one of the UK's Best Workplaces™ by Great Place to Work®.

Press Contact
Funda Cizgenakad
T: +44 7876 616 246
E: pr@contextworld.com
Sign up

Register to receive the latest press releases