Sales of touchscreen LFDs up by 31% year-on-year in Q1 2018
London, 30th April 2018 - Revenues from large-format displays (LFDs) continued to grow in the first quarter of 2018, driven by, among other factors, sales of interactive displays which grew over 30% year on year, according to the latest distribution data published by CONTEXT, the IT market intelligence company.
In Q1 2018, overall sales of LFDs increased year-on-year by almost +11% in volume and +17% in revenues with ASPs remaining relatively flat. If we narrow down this market to touchscreen LFDs, the picture is even better: interactive LFDs accounted for over 35% of revenue in the category during Q1 2018, and grew over +30% year-on-year in terms of both revenue and units.
Despite the fact that volumes are still low, vendors and distributors push sales of these products because of their much higher ASPs. For instance, a 55-inch display with touchscreen can be two or even three times more expensive than a non-interactive model. The growing number of models with high resolution also spurs sales. WE distributors have already seen revenues from these double in the first quarter of this year, and unit sales have tripled.
Whilst Q1 is usually a strong quarter for LFDs thanks to, amongst other factors, the allocation of public budgets, such a successful start is nevertheless a good indication that 2018 should be another strong year.
"Increasing vendor activity certainly suggests that vendors anticipate growth in this space", said Dominika Koncewicz, Senior Analyst for Displays at CONTEXT. "Sharp and LG, for instance, have recently announced the expansion of their line of interactive products, presenting new solutions designed to offer not only better collaboration but also to engage customers in retail stores, showrooms and other public spaces."
Revenue YoY of Interactive large format displays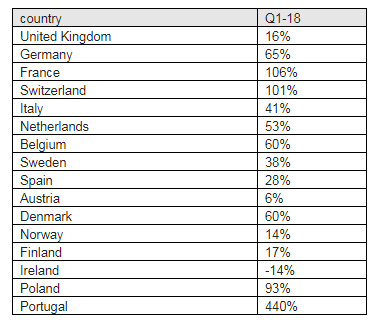 About CONTEXT
CONTEXT's market intelligence, performance benchmarks and opportunity analysis empower clients to optimise operations and accelerate tomorrow's revenues. With over 30 years of industry partnership and of experience reporting on large datasets, CONTEXT delivers analytics at all points in the value chain, providing clients with actionable insights rooted in concrete data and a profound understanding of customer needs. CONTEXT is headquartered in London, with over 250 staff across the world and in 2017 was 2017 recognised as one of the UK's Best Workplaces™ by Great Place to Work®.

Press Contact
Funda Cizgenakad
T: +44 7876 616 246
E: pr@contextworld.com
Sign up

Register to receive the latest press releases