Sales of printer hardware across Western Europe down by -4% in Q4 2017
London, 22nd February 2018 - Revenues from consumer-targeted monitors grew by +14% year-on-year in 2017 and unit sales were up by +5% compared to 2016, according to the latest distribution data published by CONTEXT, the IT market intelligence company
2017 was a very successful year for desktop-monitor sales and for most vendors. Revenues in both consumer and business segments increased by +9%. However, the key drivers were consumer-targeted monitors, especially high-end gaming monitors* with higher refresh rates and adaptive sync technology.
Revenues from these almost doubled compared to 2016, with volumes growing by +83% year-on-year. There were improved revenues from 165Hz and 144Hz monitors: in 2017 these grew by +105% and +73% respectively. This increased consumer-side demand has led to much stronger sales to retail and consumer etail in 2017, which are up by +17% year-on-year.
TN (twisted nematic) panels remained the dominant technology in 2017. Although these monitors are cheaper and deliver faster refresh rates, it was IPS (in-plane switching) monitors, which offer more vibrant colours and wider viewing angles, that witnessed the biggest sales uptick. In 2017, they accounted for over 40% of monitors sold by distributors, with revenues growing by over +23% year-on-year.
The high revenues in 2017 were also driven by increased ASPs for monitors; these grew by +6% year-on-year to reach €152. This was largely due to the demand for high-spec consumer and gaming monitors, as the ASPs for commercial monitors remained relatively unchanged.
"Revenues from desktop monitors are expected to continue to benefit from the growing interest in premium, high-end products that is coming not only from gamers but also from professionals such as designers, photographers and medical users who look for high performance and picture quality", said Dominika Koncewicz, Senior Analyst for Displays at CONTEXT.
Country Split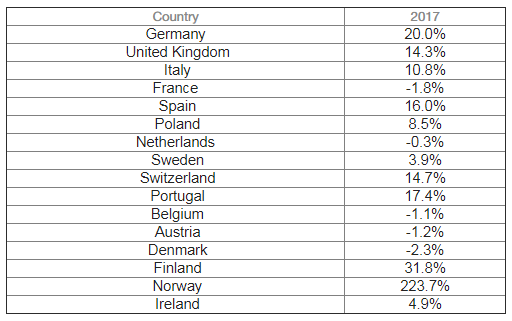 About CONTEXT
CONTEXT's market intelligence, performance benchmarks and opportunity analysis empower clients to optimise operations and accelerate tomorrow's revenues. With over 30 years of industry partnership and of experience reporting on large datasets, CONTEXT delivers analytics at all points in the value chain, providing clients with actionable insights rooted in concrete data and a profound understanding of customer needs. CONTEXT is headquartered in London, with over 250 staff across the world and in 2017 was 2017 recognised as one of the UK's Best Workplaces™ by Great Place to Work®.

Press Contact
Funda Cizgenakad
T: +44 7876 616 246
E: pr@contextworld.com
Sign up

Register to receive the latest press releases