SMB LAN & Data Center Switches Drive W European Enterprise Disti Networking Revenue Growth
London, 15th March 2018 - Combined revenues from networking products sold to enterprise customers through the distribution channel in Western Europe (WE) were effectively flat in January 2018, declining by only -0.2% year-on-year, according to the latest data published by CONTEXT, the IT market intelligence company. However, the Enterprise LAN sector grew by +2.4% largely driven by sales of network switches.
There was revenue growth across three product segments: Campus LAN Switches, which grew by +0.8% year-on-year; SMB LAN Switches, which saw an +11.8% increase in revenue; and Data Center Switches, which was up by +16.8%.
The combined growth of these three segments was +5.3% and was predominantly due to small and medium resellers, whose sales of these products increased by +21.5%. However consumer etailers also saw sales increase by +18.8% year-on-year, although from a much smaller base..
On the other hand, despite increased sales of SMB LAN switches and data-center switches, the corporate reseller channel saw a decline in revenue from its largest revenue contributor, Campus LAN switches. Furthermore, combined sales of devices from the three product segments through business etail declined. In the retail-chain channel, which saw an almost flat decline for the three products segments combined, there was stellar growth of over 300% in sales of data-center switches, but this too was based on rather small sales in the previous year.
"This suggests the market is continuing to shift as smaller businesses and home-office owners become more comfortable purchasing equipment like this from SMB resellers and through consumer etailer channels, and companies purchase it from SMB resellers", said Mathias Knoefel, Senior Enterprise Analyst at CONTEXT. "The growth in corporate resellers' sales of SMB LAN and data-center switches suggests an increase in centralised purchasing for satellite offices, maybe."
Cisco, which was already the market leader for switches, grew by +1.7% year-on-year in WE in January 2018 through sales of its Catalyst and Nexus products, but dropped 1.5 percentage points of market share. Second-in-line Hewlett Packard Enterprise (HPE) grew by +20.3% and gained almost four percentage points of market share. This was driven by the Aruba product family, Flexwork, FlexFabric and HPE OfficeConnect products. Among the other top-ten vendors, Extreme Networks and Meraki stand out, with year-on-year growth of +49.6% and +46.4% respectively, driven by Extreme Networks' Summit and Meraki's MS225 and MS250 products.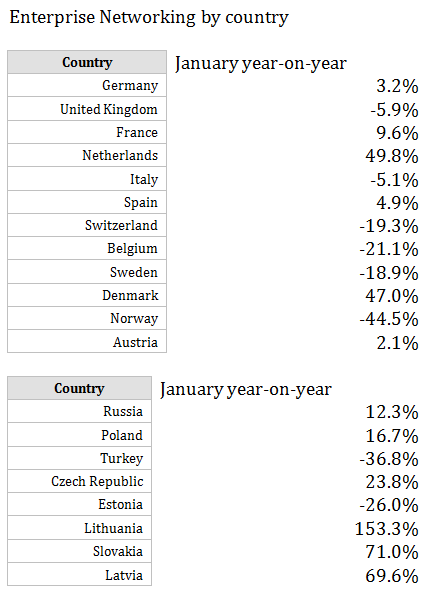 About CONTEXT
CONTEXT's market intelligence, performance benchmarks and opportunity analysis empower clients to optimise operations and accelerate tomorrow's revenues. With over 30 years of industry partnership and of experience reporting on large datasets, CONTEXT delivers analytics at all points in the value chain, providing clients with actionable insights rooted in concrete data and a profound understanding of customer needs. CONTEXT is headquartered in London, with over 250 staff across the world and in 2017 was 2017 recognised as one of the UK's Best Workplaces™ by Great Place to Work®.

Press Contact
Funda Cizgenakad
T: +44 7876 616 246
E: pr@contextworld.com
Sign up

Register to receive the latest press releases