Strong desktop monitor shipments to Europe and Americas offset weak demand in China in Q3 2017
London, 10th January 2018 - Worldwide shipments of desktop monitors have reached almost the same levels as last year, with volumes declining by -0.4 % in Q3 2017 compared to the year before, according to the latest figures from CONTEXT, the IT market analysis company.
The modest decline was driven by the business segment, in which volumes dropped by -3% and revenues by -5%, while the consumer sales have witnesseduptick of +3% in volumesand +7% in revenues. Shipments to EMEA grew by +3%, driven by Central & Eastern Europe, which saw +12% growth. Shipments to both North and Latin America increased, as did those to Japan (by 6%, +11% and +4% respectively). However, those to the rest of the world – 40% of the total – declined and there was a -10% year-on-year fall in shipments to the biggest market, China.
Screens of23" and above accounted for 60% of the global market in Q3 2017, up from over 50% in the same period in the previous year and 3 points more than in Q2 2017.IPS remains the fastest growing panel technology: it had a 43% share of the market, up from 37% the year before, and grew by +18% year-on-year.
Full-HD monitors have steadily penetrated the global market and continue to dominate, accounting for over two-thirds of global shipments and experiencing +8% growth. WQHD screens have gained share, with sales growing at +75% year-on-year. Ultra HD monitors still represent a small portion of the marketin Q3 2017; however, with a +85% year-on-year sales increase, this resolution is seeing faster growth than any other.
Worldwide, the multi-function monitor market registered year-on-yeargrowthand also significant quarter-on-quarter growth of +16%. This increase was seen acrossall regions apart from China, where decline reached-19% year-on-yearin Q3 2017.
Dell retained its position as top vendor with a 19% unit share of the total market, while HP and Lenovo followed with shares of 14% and 10% respectively.
"Despite an overall slowdown, there are still many growth opportunitiesin the monitor market due to factors such as a shift to larger, more expensive screens; rising sales of curved monitors, the development of higher resolution displays; and growing demand for ultra-wide monitors and gaming monitors", said Dominika Koncewicz, Senior Analyst for Displays at CONTEXT. "Moreover, steady growth in Europe, improved economic development and slowly recovering demand in China, together with falling panel prices(which eases pressure by reducing high component costs),are expected toincentivise the market and drive monitor shipments in the coming months."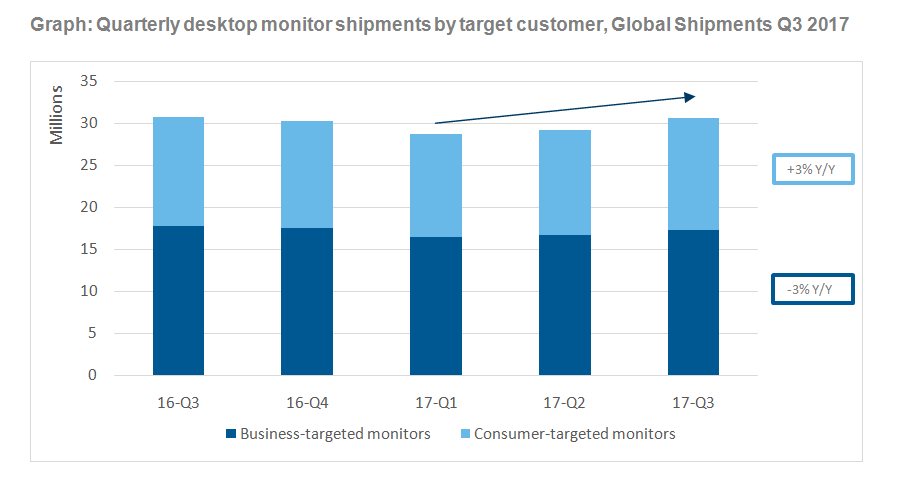 About CONTEXT
CONTEXT's market intelligence, performance benchmarks and opportunity analysis empower clients to optimise operations and accelerate tomorrow's revenues. With over 30 years of industry partnership and of experience reporting on large datasets, CONTEXT delivers analytics at all points in the value chain, providing clients with actionable insights rooted in concrete data and a profound understanding of customer needs. CONTEXT is headquartered in London, with over 250 staff across the world and in 2017 was 2017 recognised as one of the UK's Best Workplaces™ by Great Place to Work®.

Press Contact
Funda Cizgenakad
T: +44 7876 616 246
E: Funda@contextworld.com
Sign up

Register to receive the latest press releases