Workstation sales maintain their momentum in early Q1 2018
London, 27th March 2018 – Volume sales of PC workstations through Western Europe's largest distributors were up by +11% year-on-year in the first two months of 2018 following +6% year-on-year growth in 2017, according to data published by CONTEXT, the IT market intelligence company.
"Workstation growth over the past few quarters has been driven by refresh cycles, technology improvements and the shift from stationary to mobile systems", said Marie-Christine Pygott, senior analyst at CONTEXT. "Sales of desktop models increased by +8% in early Q1 2018 compared to last year, those of mobile workstations grew by +19%, albeit from a smaller base."
Most of the top Western European countries were able to leverage this momentum at the start of the year; year-on-year, volumes were up by +11% in Germany, +18% in Italy, +22% in France and +9% in the United Kingdom. Even though the number of workstation sales continued to be low overall, their high prices made them important revenue drivers.
Workstations accounted for only 2% of all PCs sold through European distributors in early Q1 2018 but, with an average selling price of €1,199, generated 5% of the revenues.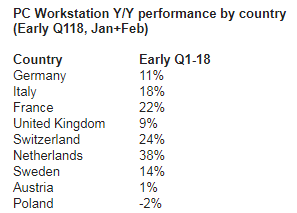 About CONTEXT
CONTEXT's market intelligence, performance benchmarks and opportunity analysis empower clients to optimise operations and accelerate tomorrow's revenues. With over 30 years of industry partnership and of experience reporting on large datasets, CONTEXT delivers analytics at all points in the value chain, providing clients with actionable insights rooted in concrete data and a profound understanding of customer needs. CONTEXT is headquartered in London, with over 250 staff across the world and in 2017 was 2017 recognised as one of the UK's Best Workplaces™ by Great Place to Work®.

Press Contact
Funda Cizgenakad
T: +44 7876 616 246
E: pr@contextworld.com
Sign up

Register to receive the latest press releases