3d_printing_single_category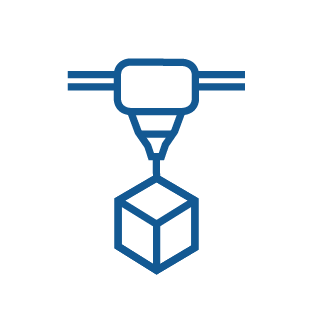 Quarterly global Industrial 3D printer shipments see diverging trends
Weaker shipments of polymer systems in Covid-hit Shanghai pull down Global Industrial category totals; metal printer shipments continue to rise however thanks in part to surging demand from aerospace
LONDON, 18 October 2022 – Just as the Industrial* 3D printing industry seemed to have fully recovered from the pandemic and begun to accelerate, reduced domestic China shipments, directly related to regional Covid flareups, pulled-down global shipments of Industrial 3D printer systems in the second quarter of 2022, according to CONTEXT, the IT market intelligence company. Other lingering Covid-induced issues in the west – including continued supply-chain problems and global inflation – also challenged printer system vendors around the world.
Shipments of new systems in the all-important Industrial price class (which made up 56% of the global system revenues in Q2 2022) were down −3% year-on-year entirely because of a −13% fall in those of polymer systems. A −29% drop in domestic sales into China was directly related to Covid shutdowns in Shanghai. Reduced shipments were also seen in the world's top market, North America – although this change was more related to inflationary pressures. While reduced polymer machine shipments pulled down the entire sector, shipments of new metal machines remained robust with Industrial metal machines shipments rising +12% in the quarter.
Chart 1: Global Industrial 3D printer system shipments (Units) by material
and process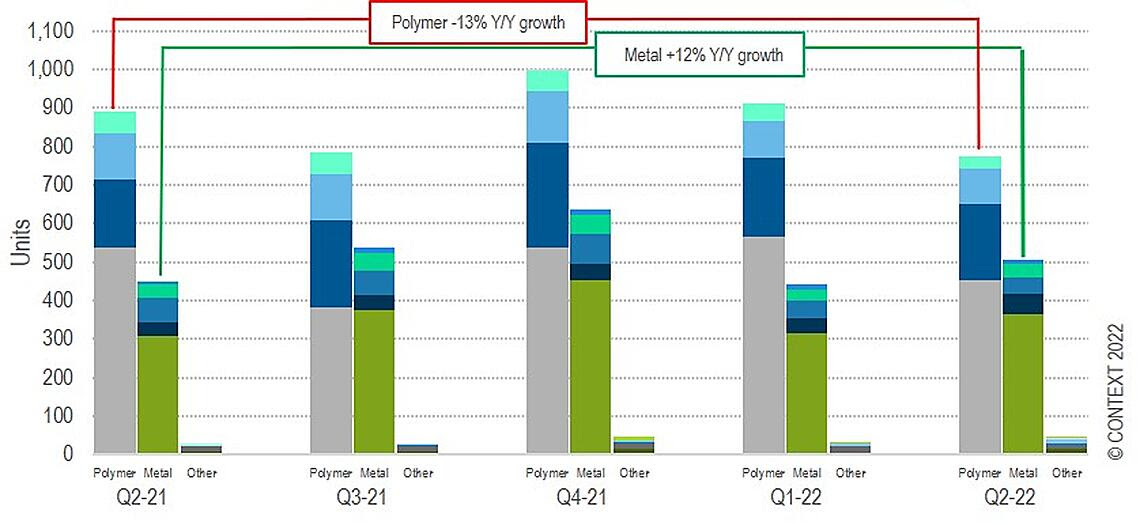 In spite of reduced shipments, Industrial system revenues were up +13% year-on-year thanks to inflation-induced price increases and rising demand for more expensive metal systems with larger build sizes and faster throughput (the latter is now often related to the number of lasers in the system). The combination of these factors resulted in a weighted average price increase of +17% that helped many vendors see strong revenue growth in Q2 2022.
Metal powder bed fusion
The greatest growth in the Industrial class came from sales of metal PBF printers with aggregate system revenues rising by +32% year on-year. EOS was again the global market leader but other companies, such as SLM Solutions and Velo3D, saw even more impressive organic growth (of +66% and +175%, respectively).
While HP's rollout of their Metal Jet system at Chicago's IMTS led to metal binder jetting technology taking the spotlight, the metals space is still dominated by PBF (such machines accounted for 72% of metal systems sold in the period). Industrial metal PBF printer shipments were up +19% with companies in both the East (BLT, HBD and Farsoon) and West (EOS, TRUMPF and SLM Solutions) experiencing great unit shipment growth. Of the top 10 vendors of these systems, 8 saw more printers ship in Q2 2022 than in Q2 2021. The top vendor in unit shipments, China's Eplus3D, had shipment growth of +45%. With the private space race in full gear across the globe, aerospace continues to be a key market for metal PBF vendors both in the East and in the West.
Chart 2: Global Industrial metal PBF 3D printer system shipments and revenues
by vendor

Japan's growing presence
When players in the 3D printing space refer to "Eastern companies" they have heretofore really only been talking about vendors based in China. However, Mimaki and German/Japanese DMG Mori already compete in the additive manufacturing market and Japan's presence is growing. Nikon is set to acquire SLM Solutions – the number 2 company in the number 1 revenue segment (Industrial metal PBF) – and leading electronics manufacturer JEOL has also recently introduced a metal PBF printer. Household name brands based in Japan (Canon, Epson and Ricoh, for example) are also expressing an ever-stronger interest.
Trends in other 3D printer price classes
Design – There was good growth (+15% year-on-year) in shipments of new systems, thanks mostly to market leader Stratasys' recent extension into new polymer technologies exemplified by their strong sales in new vat photopolymer categories. This illustrates the often-seen tendency for the 3D printing industry to grow when trusted, well marketed brands offer products using a different technology and demonstrates that there is no single silver-bullet technology. The growth also suggests that end markets continue to be excited enough about 3D printing to search for ways to use the newest technologies. This bodes well for HP as it extends its offering beyond polymer 3D printing into metal binder jetting.
Professional – Shipments in this price class were down −9% in Q2 2022 and have been relatively flat lately, falling −5% on a trailing-four-quarters basis. Many vendors of Professional machines have begun expanding into the Design class (see, for example, Formlabs new SLS Fuse 1+ 30W solution). Ultimaker and MakerBot have officially joined to form UltiMaker with the hope that the new entity can help accelerate the return to growth of this price class.
Personal and Kit & Hobby – Although shipments of Personal and Kit & Hobby printers were up in the quarter, on a trailing-four-quarters basis, Personal shipments were down -6% and KIT&HOBBY shipments were down -1%. While demand remains higher than it was a few years ago, growth has trended down since the Covid boom of 2020. China's Creality continues to dominate this low-end market.
Quarterly industrial 3D printer shipments accelerate in US and Western Europe as market remains confident of robust full-year growth
Strong order books keep expectations of global growth over the full year high in spite of Covid-induced slowdowns in China
LONDON, 14 July 2022 – In a total reversal of trends seen during pandemic lockdowns in 2020, shipments of the highest-end 3D printers were on the rise and accelerating in Q1 2022 while shipments of consumer-centric systems were down and decelerating, according to the latest by CONTEXT, the market intelligence company.
By Danielle Cohen
Strong order books keep expectations of global growth over the full year high in spite of Covid-induced slowdowns in China
LONDON, 14 July 2022 – In a total reversal of trends seen during pandemic lockdowns in 2020, shipments of the highest-end 3D printers were on the rise and accelerating in Q1 2022 while shipments of consumer-centric systems were down and decelerating, according to the latest by CONTEXT, the market intelligence company.
As the world looks to additive manufacturing in an effort to overcome continuing supply-chain challenges, shipments in the strategic Industrial and Design price classes* were up +7% and +19% respectively on Q1 2021. These together accounted for 69% of total revenues for the quarter. Even more impressive was their growth compared to the same period of 2020, just before the onset of the pandemic. CONTEXT notes that shipments of Industrial systems were +53% greater than the same period two years ago and those of Design systems +36% greater.
Although shipments of consumer-centric Personal and Kit&Hobby printers were up from pre-pandemic levels, they were down −25% and −47% on Q1 2021. Professional systems, which form the intermediate segment of this category, are looking for a catalyst and their performance over Q1 2022 was relatively flat: up just +2% year-on-year and +7% on Q1 2022.
Chart 1: Global 3D Printer System Unit Shipments by Price Class Q1 20-22
(note different scales)

INDUSTRIAL PRINTERS
Shipments of almost all types of printers in this market segment grew in Q1 2022 with the greatest growth seen in metal Binder Jetting where printer shipments were up +113% over Q1 2021. Binder Jetting is not a dominant technology (accounting for just 3% of all industrial machine shipments) and not the dominant technology for metal additive manufacturing (only accounting for 8% of the category total in the period) but it is one of the fastest growing technologies. While Desktop Metal (along with recently acquired ExOne) leads in market share for metal Binder Jetting, household brands HP and GE look to soon enter the space with HP on track for full commercial launch of their Metal Jet technology within 2022.
In terms of total machine shipments, China's UnionTech was again the volume leader but saw shipments trail off −6% from a year ago. While the growth of additive manufacturing in China has been impressive over the last few years, shipments stalled in the first quarter of this year with shipments up only +2% from a year ago. With a 'zero Covid' policy resulting in long lockdowns in major cities, China's growth is likely to be further stymied in Q2 2022. Regions leading the global growth this period were North America, which saw year-on-year shipment growth of +16%, and Western Europe where shipment rose +8%. By vendor, standout brands in the top 10 seeing some of the strongest year-on-year organic unit shipment growth include Prodways, BMF, 3D Systems, Farsoon and HP in Polymers and Eplus3D, Velo3D, TRUMPF and Farsoon in metals.
DESIGN PRINTERS
The top 10 companies working in this segment all shipped more systems in Q1 2022 than in Q1 2021. By technology, Material Jetting was particularly strong in the period lead by 3D Systems with their MultiJet Printing solutions (up +53% year-on-year) and Stratasys with their PolyJet technology (up +44%). Including all technologies, existing product lines were responsible for most shipment growth in the class but newly introduced models and technologies from leading vendors – including Stratasys' Origin P3 printers and 3D Systems' material extrusion printers (from newly acquired Kumovis) – also contributed. Shipment leaders in this segment in the quarter include Stratasys, 3D Systems, Markforged, Nexa3D and Prodways.
PROFESSIONAL PRINTERS
Two leading brands – Ultimaker and MakerBot – have recently made news by announcing a merger. MakerBot, which will spin away from parent Stratasys, creates both Professional and Personal systems. Its strength in the US market and education sector will compliment that of Ultimaker, which long ago shifted its focus to the Professional segment and is most dominant in the EMEA region. Given the limited recent growth in shipments of Professional machines, the industry is eager to see the direction the new company will take. Hints that the newly merged entity will follow another leader in this price class, Formlabs, by expanding its portfolio come from Ultimaker's launch of a new metal-focused solution. While Professional units from Ultimaker and Formlabs accounted for 55% of those shipped in Q1 2022, other vendors in the top 5 (including Raise3D and SprintRay) saw better growth. The significance of the market leaders, and the slight share shift in the category, can be demonstrated by excluding the top two brands from the analysis: without them, total unit shipments would have been up +16% year-on-year.
PERSONAL AND KIT&HOBBY PRINTERS
Shipments of the lowest-end printers were significantly down on last year but a few vendors had some success in the education sector. While do-it-yourself kits are more for hobbyists, low-cost, fully-assembled Personal printer sales cross more markets, including education. Personal shipments saw some success as governments across the world look to support the teaching of science, technology, engineering and maths. Subsidies from Poland's Laboratoria Przyszłość (Laboratories of the Future) programme led to some significant projects especially for Polish vendors (for example, Zortrax) and others with a strong presence in the country. Leading vendor MakerBot also recently highlighted government support for 3D printers in schools in other regions (including the US) although these are not yet evident in sales figures. Such subsidies and initiatives will offer a shot in the arm and give hope to a market struggling to find a new accelerant. Another hopeful sign for this low-end of the market is the resurgence of the recently subdued crowdsourcing sector: in Q1 2022, Anker raised a record $8.9M on Kickstarter against a pre-order of over 12K printers.
A LOOK AHEAD
In spite of headwinds from factors including global inflation, a slowdown in China's economy related to current Covid mitigation efforts, looming fears of regional recessions, and the ongoing Russian incursion into Ukraine, manufacturers of Industrial 3D printers remain bullish in their collective outlook for 2022.
In the near term, CONTEXT expects industries such as aerospace and dentistry to remain key with current forecasts projecting a +24% rise in unit shipments and a +29% rise in system revenues for the full year in the Industrial class. Longer term forecasts are driven upward by continuing incursions of additive manufacturing into volume production elsewhere as well, thanks to its ability to onshore certain manufacturing processes and help alleviate supply-chain issues.

As such, Industrial 3D printing system revenues are on track for a 5-year CAGR of no less than 28% propelled mostly by technologies focused on volume serial production.
Chart 2: 5-year Industrial 3D printer system unit shipment forecast and CAGR growth by process and material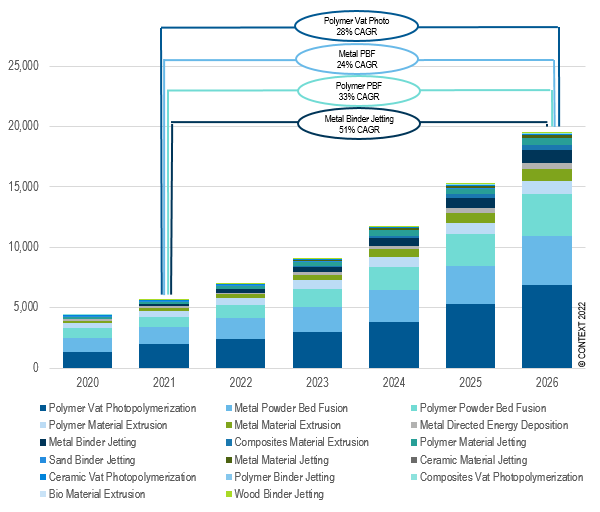 * Price classes for fully assembled finished goods: Personal <$2,500; Professional $2,500–$20,000; Design $20,000–$100,000; Industrial $100,000+ Kit & Hobby printers require assembly by purchaser.
Industrial 3D Printer Accelerants in Q4 2021: Metals, China and Aerospace
Industrial metal 3D printers saw impressive +24% shipment growth in 2021
LONDON, 12 April 2022 – Global shipments of Industrial* 3D printer systems accelerated again in Q4 2021 giving a clear sign that the global 3D printer market is being renewed and is no longer in recovery mode, according to CONTEXT, the market intelligence company.
Industrial metal 3D printers saw impressive +24% shipment growth in 2021
LONDON, 12 April 2022 – Global shipments of Industrial* 3D printer systems accelerated again in Q4 2021 giving a clear sign that the global 3D printer market is being renewed and is no longer in recovery mode, according to CONTEXT, the market intelligence company.

Global shipments of high-end printers were not only greater than those seen in the same quarter of the previous year, but also finally above the pre-pandemic levels of Q4 2019. Industrial printers (those costing more than $100,000) accounted for 61% of hardware revenues in Q4 2021 and 58% of revenues for the year as a whole. Unit shipments in this segment were up +11% in the last quarter of 2021 and up +22% compared to the pre-Covid Q4 2019.

Annual shipments of Industrial systems were up +29% on Covid-ravaged 2020 and even showed a slight increase (+1%) on 2019 thanks to accelerating sales in the second half of the year. Hot areas of growth in the final quarter of last year were metal 3D printers, the domestic Chinese market, and end-user industries such as aerospace where accelerated activity by privatised space companies highlights key advantages of additive manufacturing (AM).
Metal Rising
CONTEXT's quarterly market tracking shows that while areas such as composites and ceramics continue to see nice growth in other printer price classes, the Industrial 3D printer market is largely characterised by machines focused on either polymers or metals which, in aggregate, made up 98% of Industrial unit shipments in 2021. In 2021, industrial polymer printer shipments outpaced those of metal machines by 63% to 35%, and AM machines focused on printing metals accounted for 53% of Industrial hardware revenues. While there are several different methods for printing metal, laser powder bed fusion remains the most dominant technology, accounting for 71% of metal machines shipped over the year. Binder jetting technology saw the most impressive gains for the year, however, with shipments of this type of printer up +145% in 2021.

When all types of metal machines are considered, Desktop Metal lead the category in total printer shipments in 2021 but different vendors lead in different modalities. EOS was the leading vendor in the largest segment (powder bed fusion) and global leader in revenue terms; Markforged led in material extrusion; Desktop Metal (which grew organically as well as by acquisition of key competitor, ExOne) in binder jetting; TURMPF in directed energy deposition; and Optomec in material jetting. Across all regions and modalities, +18% more metal machines were shipped in Q4 2021 than in the same period of the previous year, and annual shipments were up +24%.
Chart 1: 3-year Industrial metal 3D printer shipments by process and vendor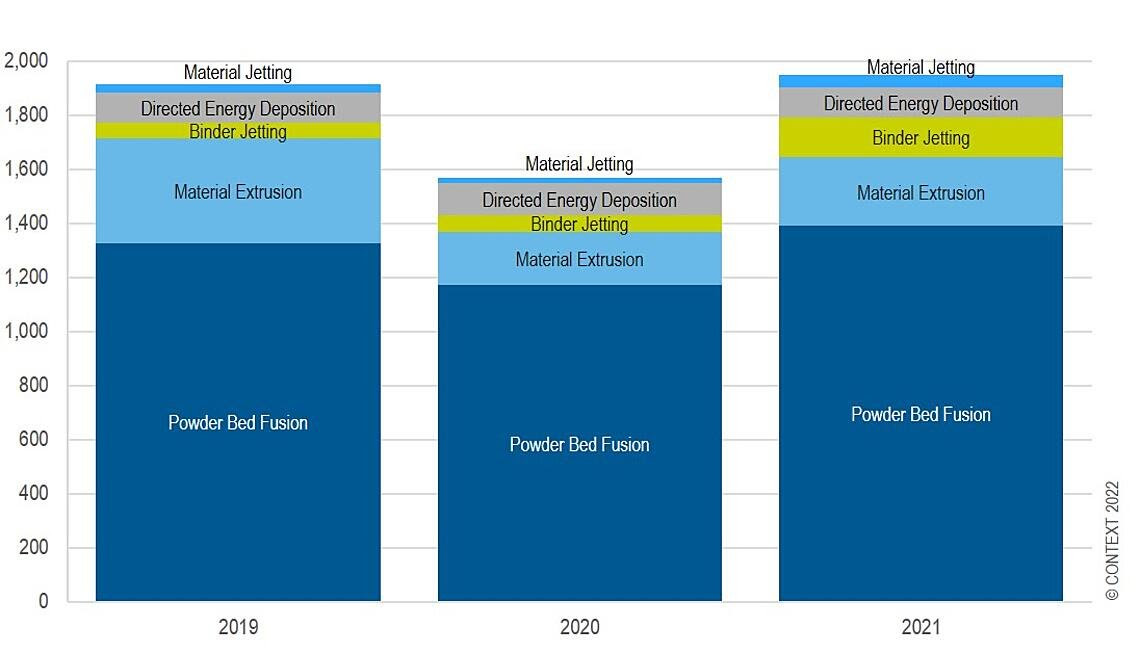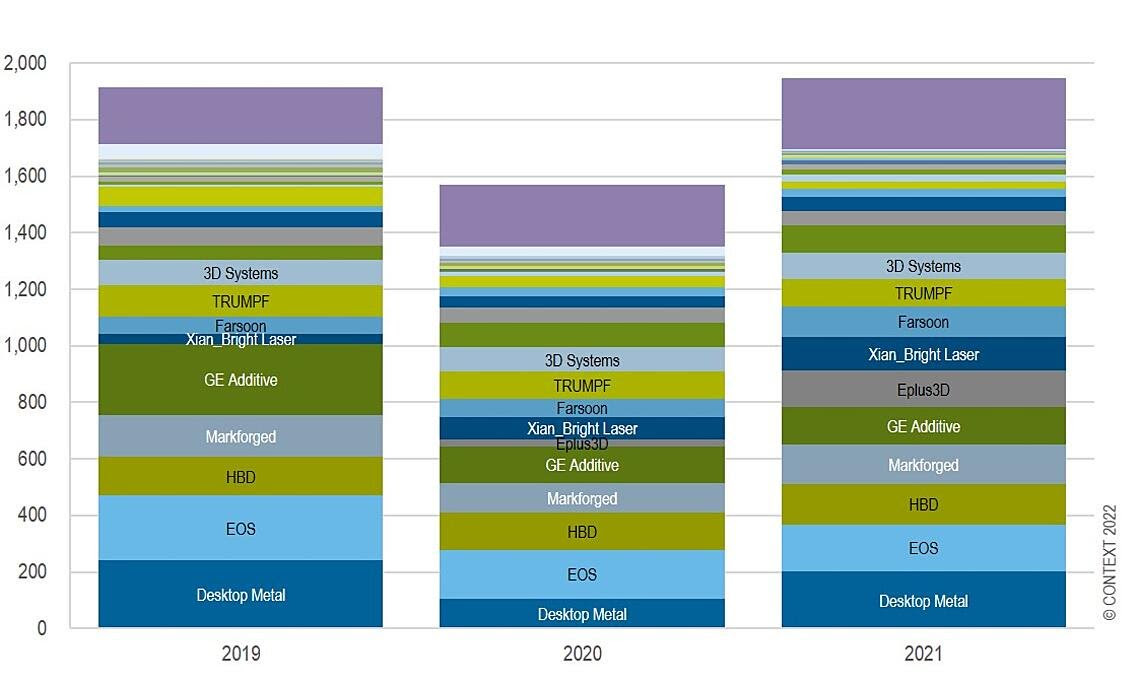 Regional Shipments – China's Strength
Domestic shipments into China represented the largest area of regional growth in Q4 2021; they were up +15% compared to +13% in Western Europe and +11% in North America. China was the second-largest market (after the US) for $100,000+ 3D printer systems of all material types. While China's rise over the quarter was impressive, it is only the latest input into even more impressive growth over a several-year timeframe. It was the only region to see increased shipments of Industrial 3D printers in 2020 (+4%) and has a five-year compounded annual growth rate (CAGR) of +23% – compared to +7% in North America and +2% in Western Europe. China's UnionTech was the leading vendor globally in both Q4 2021 and for the year as a whole, thanks to its strength in polymer systems. Four of the leading metal 3D printer companies – HBD, Eplus3D, Xi'an Bright Laser Technology (aka BLT) and Farsoon – are Chinese.
Chart 2: 5-year Industrial 3D printer system shipments and CAGR growth by region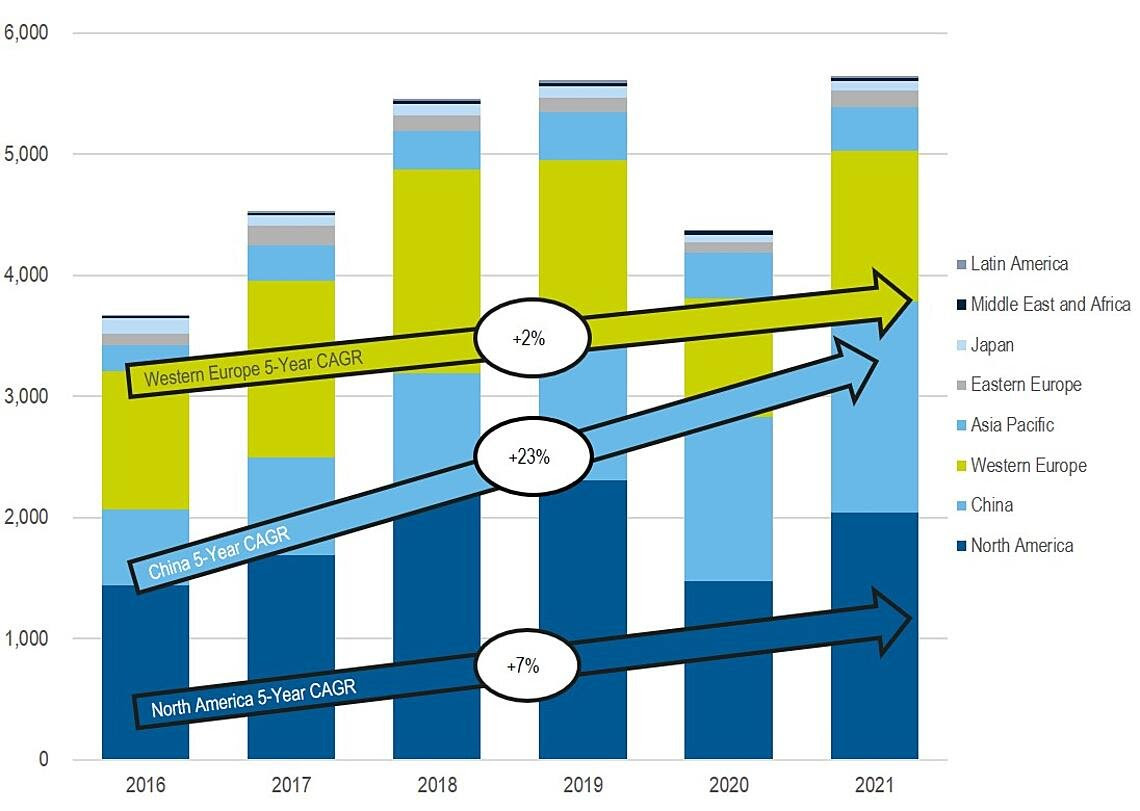 Rising Industrial End-Markets
Metal 3D printing has grown hand-in-hand with the development of new rockets and satellites, and with the general emergence of the private space race. Able to quickly print intricate parts in volumes commensurate with the needs of the industry, metal AM is tailor-made for this exciting new field. In the impressive order books of two up-and-coming metal powder bed fusion companies, Velo3D and SLM Solutions, many customers are aerospace. With international business travel still limited, commercial aviation has been slow to recover from the pandemic but demand from the 'space' side of aerospace has more than made up for the shortfall. Other hot markets for metal AM machines in 2021 and into 2022 are energy and those parts of the automotive industry focused on electric vehicles.
A Look Ahead
While a strong H2 2021 and growing backorders set the stage for a strong 2022 in industrial metal 3D printer shipments, other technologies are also expecting significant growth in the year ahead. Demand for clear dental aligners and digital dentures looks set to remain strong and will continue to drive sales of certain polymer printers. Leading vendors in the Industrial polymer space – including UnionTech, Stratasys, HP, Carbon, 3D Systems and EOS – all saw growth in 2021. CONTEXT's quarterly market analysis reveals that machine shipments overall were up +5% in Q4 2021 and, more impressively, +31% in the year as a whole. Many vendors report renewed interest in AM as companies look at accelerating serial mass production in response to broken supply chains. This year will also see the shipment of new technologies from some of the world's largest 3D printing companies such as Stratasys and 3D Systems. History has shown that end markets are always eager to purchase the latest 3D printer technology, especially when offered by the world's leading companies in the space. When well-funded companies with good distribution infrastructures and strong marketing and PR efforts expand their portfolio into adjacent technologies, it has traditionally elevated the AM market. It will do this again in 2022, with Industrial shipments on course to grow by +22% over the year.
* Price-class categorisation of PERSONAL (<$2,500), PROFESSIONAL ($2,500-$20,000), DESIGN ($20,000-$100,000) and INDUSTRIAL ($100,000+) based on fully assembled, finished-good products; new KIT&HOBBY class defined by DIY assembly required.